BRYAN ADAMSKI
Head Coach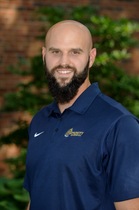 Bryan Adamski enters his sixth season at the helm of the Trinity College baseball program heading into the 2018-19 academic year after guiding the Bantams to an 18-15 record and a three-way tie for second in the East Division of the New England Small College Athletic Conference (NESCAC) last spring. The Bantams finished the season strong, winning four of their final six games, highlighted by a 7-6 victory over in-state NESCAC West rival Wesleyan University on May 5. Trinity scored 40 runs in its final six games of the season to put the season total at 193 (T4th in NESCAC). The team finished second in the league with 65 stolen bases, second in triples (17), second in home runs (16), fourth in RBIs (172), third in OBP (.386), and second in slugging percentage (.416). Trinity's pitching staff also finished second in the conference in ERA (4.40) and gave up the second fewest hits to opponents (276). During the 2018 season, Adamski coached 2018 D3Baseball.com All-New England Region and 2018 All-NESCAC shortstop Matt Koperniak, as well as All-NESCAC second baseman Cooper Mooney. 
In 2017-18, Adamski led the squad to its highest win total since the spring of 2012. Trinity posted a 22-14 record while three Bantams were named to the NESCAC All-Conference Teams, including NESCAC Co-Rookie of the Year Alex Rodriguez, a first-year catcher. In 2016, Adamski led the Bantams to a runner-up finish in the NESCAC Championship Tournament after the squad had posted a 7-5 record in NESCAC East Division play. During that season, Adamski mentored NESCAC Defensive Player of the Year Scott Cullinane behind the plate and the Bantams boasted three All-NESCAC honorees as well. In his five seasons as head coach, Adamski has mentored 10 All-NESCAC selections and 32 NESCAC All-Academic Team selections.  
Adamski graduated from Massachusetts in 2007 with bachelor's degrees in English and journalism, and holds a master's degree from Springfield College in sport management.  He finished his collegiate playing career as the all-time save leader in UMass baseball history.  Adamski, who also has two years of head coaching experience with the North Adams Steeplecats in the New England Collegiate Baseball League, served as both the pitching and hitting coach during his tenure at Amherst.  He played a pivotal role in all aspects of the Amherst program, as the Lord Jeffs posted a 112-57 record (.663) in his five seasons with four consecutive post-season appearances.  He helped Amherst win a College-record 27 games in 2013, and coached the NESCAC Pitcher, Defensive Player, and Rookie of the Year that spring.  In his final year as the Amherst hitting coach in 2010, Adamski's hitters posted a College-record batting average of .349, and the Lord Jeff pitching staff set a new team record for ERA (3.17) with Adamski as their pitching coach in 2013. In 2012, the Steeplecats were 22-20 and qualified for the post-season in Adamski's first season after a last place finish the previous year.  He also coached prior to North Adams with the NECBL's Holyoke Blue Sox. Adamski resides in Southwick, Mass. with his wife, Stephanie, and their son, Kace.
---
JASON SZAFARSKI
Assistant Coach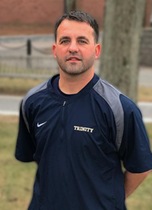 Jason Szafarski joins the Trinity College baseball coaching staff ahead of the 2019 season after numerous successful coaching stops. Szafarski previously served as head coach at St. Michael's College during the 2017 and 2018 seasons, and saw the Purple Knights break school records for saves (6) and pitching strikeouts (231). Szafarski was an assistant coach and the recruiting coordinator at Eckerd College for the two years immediately prior to landing at Saint Michael's.  Szafarski spent the 2014 season as an assistant coach at Division II power University of Tampa, helping lead the Spartans to a 54-4 record and a No. 1 ranking in the nation. In 2012 and 2013, Szafarski was an assistant coach and recruiting coordinator at St. Petersburg College, a National Junior College Athletic Association (NJCAA) Division I institution in Florida that averaged 21 wins during his two seasons. 
Szafarski was also head coach of the Upper Valley Nighthawks of the New England Collegiate Baseball League (NECBL) in the summers of 2017 and 2018. In 2017, the Nighthawks won the NECBL Northern Division at 29-15 before falling in the divisional championship series. Szafarski headed the Brockton (Mass.) Rox of the Futures Collegiate Baseball League (FCBL) in 2015 and 2016, leading the Rox to a combined 61-51 mark and two post-season berths. In 2015, he was named FCBL Co-Manager of the Year after a 34-22 performance and he was also the head coach of the Montauk (N.Y.) Mustangs of the Hamptons Collegiate Baseball League (HCBL) during summer 2014.  Between 2008 and 2013, he worked with USA Baseball as a scout, site supervisor and trials coach in Cary, N.C., assisting in the selection of a 16U National Team that won five straight gold medals. 
A former college infielder at Post University and SUNY-Oswego, the Arcade, N.Y., native graduated from Oswego in 2007 with a degree in adolescent education. He completed his master's degree in sports management from Southern New Hampshire University in 2016. Szafarski resides in Hartford with his wife, Jessica.
---
MATT GEDMAN
Assistant Coach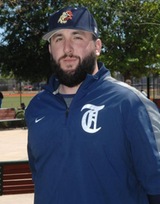 Matt Gedman enters his fourth season as an assistant coach for the Trinity baseball program for the 2018-19 school year.  Gedman coached previously at Noble & Greenough School and with the Pittsfield Suns of the Futures League.  He attended the University of Massachusetts where he played baseball and ice hockey for the Minutemen.

Gedman was the National Collegiate Baseball Writers Association District Player of the Year and an All-New England and All-Atlantic Ten honoree in 2011 when he led the A-10 in batting average at .402. Gedman was drafted by the Boston Red Sox in the 45th round in 2011 and played four years professionally with the Lowell Spinners and the 2013 Carolina League Champion Salem Red Sox.  
---